Biography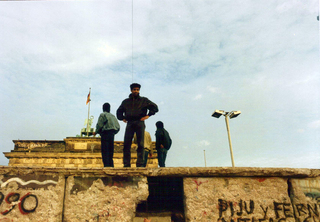 OWEN LEVY is the author A Brother's Touch (1982) and Goodbye Heiko, Goodbye Berlin (2015). A Brother's Touch became the first mass-market, best-selling gay novel after a favorable review by the New York Times. Goodbye Heiko, Goodbye Berlin is an unconventional tale of unrequited gay love and transgender reinvention set in the shadow of the fall of the Berlin Wall. Levy was born in Harlem and raised in the Brooklyn neighborhood of Fort Greene by his Portuguese mother and African-American father.

A neighborhood in that historic neighborhood was Marianne Moore, one of the most celebrated poets of mid-century America. She proved to be a valuable mentor during his teenage years, introducing him to the rich literary life of that era. She invited him to literary readings. Sunday afternoons, following church services, he would walk her home. On one such Sunday, Moore offered him advice on his attempts to write poetry. Thus were Levy's writing ambitions born. After graduating high school, Levy left for upstate New York where he attended SUNY Plattsburgh for two years. He earned a B.A. in English Literature from Hunter College after transferring there. After receiving his degree, Levy moved into a top-floor flat in an East Village apartment off The Bowery.

He immersed himself in the burgeoning Off-Broadway theater scene and was soon supporting himself in a variety of positions stand-by actor, light board techie, stage manager, usher, concessions operator. Among the productions he worked on were: The Indian Wants the Bronx, America Hurrah, Red Cross/Muzeeka, and Your Own Thing. His Off-Broadway acting debut was as a stand-by in the original production of Fortune and Men's Eyes.

The night the Stonewall riot erupted in Greenwich Village, Owen Levy was outside the Inn and became an unwitting participant in the event that was the first step on the road to Gay Liberation. In the early days of the movement, he frequently attended organizational meetings and demonstrations clamoring for gay rights. Years later, because of his involvement, Levy was invited by Toronto Pride to participate as an honorary guest.

In the early 1970s, he moved with his first boyfriend, the late composer and accompanist Richard Weinstock, to San Francisco. They set up a home in Haight-Ashbury in the waning days of the hippie movement. A witness and participant in the increasingly open gay life of the city, Levy partied with now-legendary music pioneer Sylvester and with the original Cockettes. It was in San Francisco that he began to apply himself seriously to writing.

Returning to New York City in search of a "real job," Levy landed on Broadway as a theater and entertainment publicist, representing shows, modern dance and dance clubs, unique cultural and media events, and the opening of the storied Studio 54. Among the companies and productions with which he was associated were: The Negro Ensemble Company, The New York Shakespeare Festival (under Joseph Papp), The Alvin Ailey American Dance Theater, The Lincoln Center Theater, Frank Silvera Writers Workshop. Shows Levy participated in include Ntozake Shange's For Colored Girls Who Have Considered Suicide When the Rainbow is Enuf, Louis Valdez's Zoot Suit, and Gabriel Garcia Marquez's Chronicle of a Death Foretold.

With the help of retired educator and poet Owen Dodson, Levy found a publisher for his first novel, A Brother's Touch. Though its good reviews in the press made it a best-seller across the nation and in Europe, the gay literary mafia was none too happy about it. During the subsequent decade, as a volunteer, Levy conducted creative writing workshops at a pioneering shelter for homeless youth and gave his time to one of the first gay hotlines. At New York City's LGBT Community Center, he participated in ACT-UP's weekly strategy meetings. Sadly, Levy was a witness to the rise of HIV-related deaths through those years and mourned the passing of many friends.

It was during this decade that he fulfilled a dream he had had since spending his junior year of college abroad: to move to Europe. In the mid-1980s, just before the fall of the Berlin Wall, he moved to that city. He would divide his time between Berlin and New York City for more than a decade while he covered the film and music scene for such trade publications as Variety and Billboard.

In Germany, Levy worked as a stringer for trade publications such as Blickpunkt, Hollywood Reporter, Variety, and Billboard with a specialty in covering film, TV, and the music scene. Throughout those years he covered the annual Berlin International Film Festival and was a contributing editor to the Berliniale's daily magazine Motion Pictures International, as well as a documentations author for the bi-annual European Film Academy's master classes in the art of filmmaking. Turning his leisure pursuits into a side gig, he moonlighted as a party promoter in Berlin's white-hot house and techno music scene. He co-created one of the city's legendary club parties, Wet Dreams. Levy was the producer and host of the first English-German bilingual cable talk show, Sweet Talk. He wrote, produced, and directed a documentary about African-American expatriates living and working in the German entertainment industry.

Since then, Levy has returned to New York to focus on his writing. His fiction, reviews, and interviews have appeared in numerous publications including The Advocate. Levy has spent time as a fellow of the Helene Wurlitzer Foundation in Taos, New Mexico and the Edwin MacDowell Colony in Peterborough, New Hampshire. Recently, his attention has been focused on the publication of his second novel, Goodbye Heiko, Goodbye Berlin.

Whenever possible, Levy steals away to an upstate retreat in the historic Mohawk Valley.
A City Divided Then Reunited After Fall Of Infamous Berlin Wall
Lebwohl Heiko, Lebwohl Berlin
Berliners and visitors milling spontaneously around remnants of the Wall that kept the city's landmark memorial Brandenburg Gate in East Berlin throughout the years of the Cold War. Apparently during the postwar Allied division, Josef Stalin recognized the historic value of the Medieval built city center and appropriated for the Soviet Bloc some prime historic real estate including the remains of the last Czar's city palace. The less history-conscious Americans cheerfully gave up some of the city's plum properties and occupied the late 19th Century-built West End. In a way it was fortunate. The GDR never had funds for proper restorations. It was discovered that many buildings in the East still bore traces of bullet used for the street by street combat that took place in the final days of WWII. In many instances time had stood still in the East.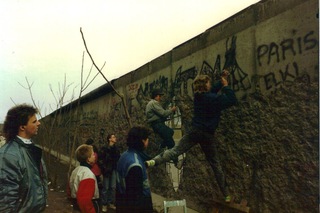 The historic breach of the Berlin Wall eventually provided a temporary cottage industry with hard-won wall chippings marketed as souvenirs. Unlike the Third Reich the Berlin Wall was clearly built to last 1000 years. It's removal was a huge undertaking that was certainly helped by the hordes of souvenir entrepreneurs who with stone cutting tools in hand spent day after day creating retail-able packets of the infamous fortress. Small samples and eventually even whole blocks made their way around the world. Apparently a little known fact of the wall might have discouraged some. Among materials the East Germans used to create the super-strong barricade was toxic asbestos mixed in with the cement. So every little puff of dust generated by chipping was potentially fatal.